License Certificate Creator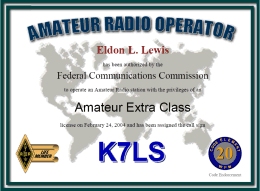 You will need the free Adobe Acrobat Reader to view the pdf License Certificates.
To print a reference copy of your FCC License, click here.
The following form can be used to create a certificate for your license. The certificate created can be printed and framed and then hung on your wall or you can use it simply to see what your new vanity call might look like as compared to other calls that you might be considering. All of the fields below must be filled in. The certificate created will be in the form of an Adobe Acrobat pdf file.
There have been 57813 certificates created since April 19, 2011.